Cat Doors for Glass Doors
We install cat doors into glass as our installer is a qualified glazier. There are many different types of glass and you can install a cat door into any of these. You can also install a cat door into a window.
Cats love window watching. A window or glass sliding door is the perfect place for a cat door. Call us to find out more, we will find the most cost-effective solution for you and your cat.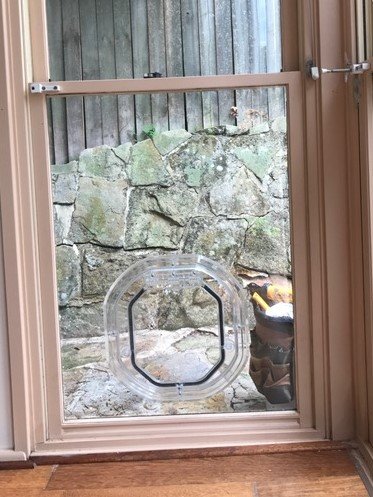 Cat Doors for Screen Doors
A cat door can easily be installed into a security screen door. Your cat door can be aligned to your timber or glass door so they can work as one. We can help you select the best door for your security screen door. Call us to find out more about installing a door into a screen door.
Cat Doors for Timber Doors
Our cat doors can fit all types of timber doors and panels of wood. The cat doors we use on a timber door have a weather sealed flap to stop unwanted drafts from entering. We can supply a door that will match the style and colour of your timber door.
Microchip Cat Doors
If you have a problem with possums or are worried about security we have the latest microchip cat doors available. With these modern doors when an animal approaches the flap, it scans their microchip and when it recognises your pet's identification microchip or collar tag the door unlocks and opens for them.
These doors are a great way to stop unwanted animals from entering your home and give your pet their own door key.
Extra Service
The extra service we offer at Samantha's Pet Doors means our installer will take the time to help train your cat to use their new cat door after it has been installed.
Contact us or call us 0476 169 920 to discuss the best cat door or cat flap for your existing glass, timber, or screen door.
Remember when the weather is hot cats need:
somewhere cool to rest,
access to shade so they can stay cool, and
plenty of cool water to drink
Samantha's Pet Doors Cat Door Gallery